Anime Review Rating:
1. 9/10
2. 9/10
3. 9/10
Picture Examples Of Anime: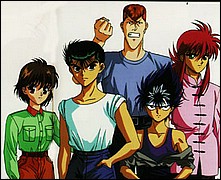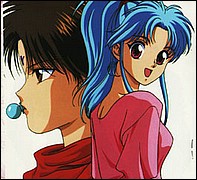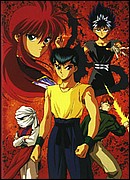 1
In the game of life, second chances are rare. But for Yusuke Urameshi, he gets that chance. Killed in an accident, saving a young boys life from a speeding car, Yusuke is almost glad to be dead. His life is shot, his mother is a drunk, and he is failing miserably in school. But as a ghost, he sees how much he is missed, even by the people he thought hated him. Seeing this, he decides to take his life back. When he succeeds, he is givin the title of 'Spirit Detective', which means Yusuke will now defend the Earth from demons and the supernatural, using his own spirit as a weapon. Between three eyed demon thieves, and psychic hunters who have lived for years collecting powers, Yusuke is going to be a very, very busy man.

This anime is very good, with great characters and character development. The dubbed versions of this anime are mediocre, but are mostly edited compared to the original dialogue. The action scenes, on the other hand, are anything but mediocre. The action is fast paced and well done. Unlike anime such as Dragonball Z, fights are not drawn out to a billion episodes. Normally, a fight is well done, but only lasts an episode or two. But aside from the action, the music is pretty good, and the right music is used at the right time. Each case Yusuke must take is different and well thought out, using everything the makers could think of. Overall, this is a very good anime, worthy of being watched by all.
2
Yu Yu Hakusho is a story about a 14 year-old high school delinquent who dies and gets a second chance to live by the ruler of the spirit world (who turns out to be a toddler) Koenma. While returning back to life Yusuke becomes a 'Spirit Decetive', which is basically sort of like being a supernatural cop in a way of speaking. The beginning of the series starts off with what seemed like some quickly put together doodles, but later the art becomes much better.

The show has some rather enjoyable songs and lots of well-put together fight scenes that only drag on for a max of 2 episodes. The dubbed version is pretty tolerable, I've seen worse but the only thing about it that really bother me is Kuwabara's voice. The characters are also quite unique, the junior high delinquent, the silent yet cunning fighter, the mysterious (and oddly feminine o_O) teenager, and the list goes on and on. A really good show, not really made for the younger audience when going by the uncut version though.
3
Yusuke Urameshi is a teenager in high school. His whole life turns when saving a kid from a speeding car he gets killed. He then meets Boton also known as the Grim Reeper. She tells him that Koenma decided to give him a second chance at life. He throws away his first chance to save Kako from a fire. In his second chance to come back to life he succeeds only because Kako gives him a kiss to revive him.

He is then chosen for the job of Spirit Detective and Boton starts his training by teaching him the spirit gun. He is given his first assignment, to retreive the spirit artifacts from two very powerful demons and one somewhat weak demon, and is only given a week to succeed. He gets two gadgets during this mission; The spirit ring and the demon compass. He retreives all of the spirit artifacts, but breaks the forlorn hope in the fight against He-ei. I don't feel like going through every mission so i'm just going to say that throughout all the missions he makes a lot of enemies such as the 4 St. Beasts, the Tuguro brothers and their team, team Rukuyokai, Dr. Ichigaki, and most of team Masho except for Jin the Wind Master, and the whole audience at the tournament.

I would have to say that throughout this anime the action scenes are excellent, and the artwork is some of the best i have seen. The storyline is very good, and i would have to give this anime a 9/10. Yu Yu Hakusho is one of my favorite animes, and I would have to Recommend it to anyone that likes anime.
bigjoe
11-17-2006 01:26 [E-Mail,Site]
yu yu's the greatest
bigjoe
11-17-2006 01:25 [E-Mail,Site]
clean!
Rio
10-25-2006 14:53 [E-Mail,Site]
Yu Yu Hakusho PWNS!!!! Hiei is my ultimate lover!!! YYH ROX!!!! Best anime ever created. action, awesome characters, sweet story line whwats not to love?
Jas
05-13-2006 15:21 [E-Mail,Site]
I Love Hiei!!!! He is the guy I want for me !!!
Samantha
02-14-2006 18:38 [E-Mail,Site]
I think that Yu Yu Hakusho is one of the best anime shows ever. It has well-thought out characters and very good fight scenes even if they only last for about two episodes, because the fights are well shown; they're not boring. Also, I think that if you watch the show throughout the seasons, you can actually become more into it. What I mean by that is....you can start to like it better because you get to know the characters and what they're like. Overall, Yu Yu Hakusho is great and I would recommend it to anyone who's an anime fan.
One more thing:
I thank Justin Cook and everyone else who was involved in the making of Yu Yu Hakusho