Anime Review Rating:
7/10
Picture Examples Of Anime: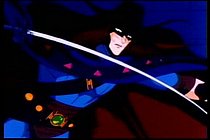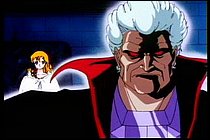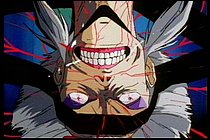 Vampire Hunter D Summary:
12,090 AD. Vampires have taken hold of the world, making it their own toy. Entire villages and towns are subjugated by vampire law. Humans are enslaved by a corrupted fuedel system, forced to live and serve their masters. Only one type of man has been bold enough to stand up to the blood drinkers of the night. Vampire Hunters. These are people who take payment to rid lands of vampires, big or small in power. One particular hunter, known only as 'D', is a Dunpeal. Half man, half vampire. Using this power for good, 'D' ranges far and wide, taking his payment as a vampire hunter.

This is a good anime. Being the first anime I ever saw, I had to do a review on it. This anime has many pros and cons, but all around, good. The animation is outdated, since the anime is old, almost a year older then I am. Acting in the dubbed version isnt all that great, so I suggest the subbed version. Action, though a bit slow compared to new age taste, is graphic and great in my opinion. Due to being made in the 80's, the music is kinda lame. If you want something old school, I suggest you look at this.

Doris, a beautiful young woman, also a monster slayer by trade, strayed into the lands of Count Magnus Lee. When she was found, she was bitten by the count himself. Rather then accept this dark fate, Doris enlists the help of a mysterious vampire hunter, known only as D. Using all in his half vampire power, D protects Doris as best he can, destroying the minions of darkness. Count Lee, however, will not be defeated so easily. Doris is abducted, and D is forced to storm the castle. This anime is sure to reveal many great action sequences and suspensful scenes. I hope you enjoy.
Drew Tucker
07-19-2004 13:36 [E-Mail,Site]
This anime is good, its a true classic
Jasmine Frazier
03-01-2004 18:40 [E-Mail,Site]
I love that movie and no one can say any thing bad about it.
Joe Aka PbxAnime
11-04-2003 11:03 [E-Mail,Site]
This is one of my favorite animes as well, this movie is great, there\'s a newer more updated version called Vampire Hunter D: Bloodlust, that there will be a review on but not right now, in comparsion, blood lust and the regular vampire hunter d are very different but have a sort of similar plot, but anyway you put it vampire hunter d is a good anime movie. I suggest it, 100% if you like vampires and movies.