Anime Review Rating:
9/10
Picture Examples Of Anime: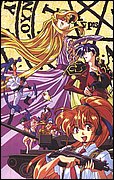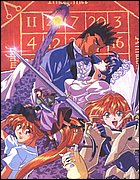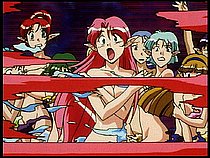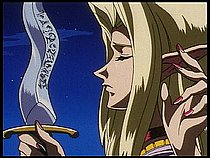 Those Who Hunt Elves Summary:
There is a legend, of three heroes of light and their cannon of miracles. When the land is in need, these people will come to its aid. Pirates have attacked a peaceful seaside port ... Strange people have arrived as well, a tall, muscular man, a young teenager, and a beautiful woman. Could these be the heroes ...? Not likely. These are Those who Hunt Elves, traversing the land in search of elves ... to strip them.

Brought to this land by accident, Junpei, the martial artist, Ritsuko, the young gunbunny, and Airi, the beautiful award winning actress, are in search of a way to their home. When the spell to send them back was being cast, Celcia, the beautiful elder of elves, slipped up in a fit of anger, splitting the spell into five. The five fragments imprinted themselves onto the bodies of five young elf maidens. Now, to get the spell together, the four must strip every elf they see ... God help the elves...

This is a really funny anime. The main attraction here is the humor, but that's not the only good feature. The animation and music are wonderful as well. Even the action is good. Junpei's martial arts are displayed very well. The character designs are pretty cool, but not perfect. Character development is a bit amiss, but it isn't really necassary to enjoy the anime. The series is 12 episodes long, each episode about 30 to 45 minutes. Look out for it online, as I have not seen it anywhere else. This anime is worth any humor lover's time.

Those Who Hunt Elves. The most unorthodox in the land, their methods of business are completely unheard of. Rather then politely ask an elf to remove her clothes, the group madly tears off all the clothes in a frenzy. Of course, this causes many problems in the elven society.... And the hunters often become the hunted! What will our heroes do?! Hopefully, they will stay alive long enough to get back home. Find out, and watch the anime, you'll love it.
Gad Guard0
05-06-2005 17:37 [E-Mail,Site]
With the charcter development lacking with good action and comedy elements this is a good anime to throw in the DVD player, invite over your friends,pop some popcorn, and turn your brains off.