Anime Review Rating:
8/10
Picture Examples Of Anime: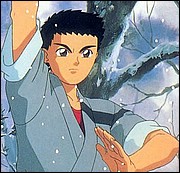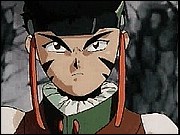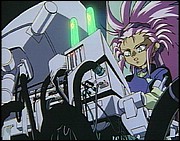 The Tenchi anime series is about a man, who ruled a peaceful race called the Jurai. The Juraian Royal Family had special powers that helped them in battles. This man was a member of the Royal Family. There are different stories told throughout the series why he came to Earth. One says he chased the space pirate Ryoko there (1st) ,another says he lost a battle and fled there, and one also said he came with his engaged wife to Earth on a journey. She didn't make it.

Well, the Juraians have ships made out of wood and plants and once planted, it can't run again. He planted his on Earth. His relatives searched for him for long time until the Juraian princess, Ayeka, found him. By then, he was an old man. But still had the strength and knowledge from years gone by. He had a son with someone, don't know who, and his son had a son with a girl (can't remember her name). They had a son named Tenchi. The man has a shrine now called the Shinto Shrine (I think) and there house lives on a mountain with lots of woodland.

Well, Ayeka finds him and starts to like him. Then the space pirate Ryoko finds him, and likes him. Then they release the universal genius Washoo. She starts liking him. Ayeka's little sister Sasami, the youngest, is the only one NOT gaga over him. His life becomes hectic and after battling evil guys and demons, he decides that he is going to move to Tokyo. He starts going to school there and falls in love with a girl.

Ayeka and Ryoko find out and are really ticked off! Later on, at the end, they find out that his girlfriend was a replica of an evil girl who wants to rule the world; or just Japan. Tenchi defeats this girl and the Earth is safe again. There are no more tenchi series after that, but there are other movies to see. They are Tenchi in Love, Tenchi in Love 2, and Tenchi: Forever.
Unknown
01-20-2007 01:33 [E-Mail,Site]
this show rules
Bizal420
07-24-2005 17:08 [E-Mail,Site]
I Have Yet To see The Rest Of The Tenchi Muyo Movies Bot I give The Series A 10 And Think They Should Start Another Series And Put It On AdultSwim.
mikkey
03-09-2005 22:42 [E-Mail,Site]
Man I miss tenchi alot that was the best show ever. why did they took it off adultswim I wish they put it back on. Espeacially seeing ryoko once again and the others too.
J.E.C.
02-06-2005 02:49 [E-Mail,Site]
Tenchi Muyo is by far one of the best animes that I have seen when is was young.I still love beacause it's fun story,the characters are unfrogetable,andyou can get soooo addicted to it.When I was young,it was a show tat was kept original(except for some parts maybe...)!I loved when I was a kid and I still do!!!I recomend this for anybody that LOOOOVES comedy!!!!
FIXXXER
01-05-2005 17:26 [E-Mail,Site]
danm they just had to take it off of adult swim...F*** they shoud bring it back on. that show was the s***