Anime Review Rating:
10/10
Picture Examples Of Anime: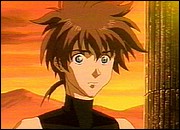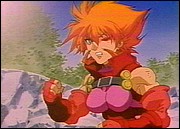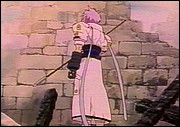 There are four kingdoms, but let us focus on just one. The kingdom of Karuda. The Karuda has a school for fighters, to teach them top notch fighting abilities. These abilities fall under front skills and shadow skills. Front skills revolve around using your fists and throws. Shadow skill is much harder to master. It was developed by the female fighters who did not have a lot of strength, and is now used by only the best fighters. The shadow skill focuses on kicks and body movements. There are very few in the world who use this skill today. The two in our story are some of those few....

Well, this is a very violent anime. The action sequences in this anime are just beautiful! There are very few anime that rival them. The music is something you can like too. Its the kind of thing that you could listen to for hours. One of the problems is the dubbing, cause the accents of some of the characters will change from normal to Scottish or Irish sounding regularly. It can get annoying. But other then that, this is a great anime!

Gowban of the Black Howling is a very young man who is learning to master the shadow skill. He has set many records that few have been able to acclomplish. the only ones that have been able to beat him are his adoptive sister Ella Ragu, and the infamous Vilo, who is known to all as "Scarface".... Gow's goal in life is to beat these two people, and has been working towards it for years. He finnally gets a chance to fight Ella in combat where both of ther lives are at stake, and will do anything to win the fight. This fight is the most important fight in Gow's life as far as he's concerned, and will win at any cost. The ironic thing about this fight is, that it is being refereed by the man Gow wants to fight the most, Scarface.... What is Scarface up too when he arranges this fight, and what dangers await them on the way to the fight. Only watching this great anime will tell!!!
Elle Ragu
10-22-2005 22:39 [E-Mail,Site]
Ok, Elle and Gau are totally awesome characters.....though I really wanted to see more of a Scarface/Elle relationship!!! Curse them and their evilness!!! But I loved Shadow Skill nontheless.
gau
01-27-2004 11:33 [E-Mail,Site]
Best new-gen anime series hands down
XALIASX
01-26-2004 16:03 [E-Mail,Site]
I kind of got into that the spirit of the warrior stuff. The Fight scenes, well need I say more.
Last saiya jin
10-18-2003 00:53 [E-Mail,Site]
i loved shadow skill it tottally rocked
Kenzaburocamos
08-19-2003 19:10 [E-Mail,Site]
Im going to agree somewhat with Hateshi's Last Guardian.Shadow skill was pretty good.The fight scenes were GOOD but unless you've seen the ovas or the manga u might get a little confused.But the show is great so check it out.