Anime Review Rating:
10/10
Picture Examples Of Anime: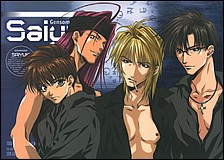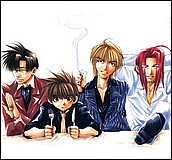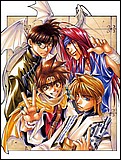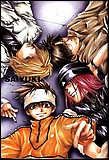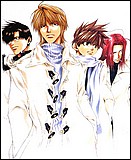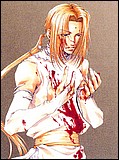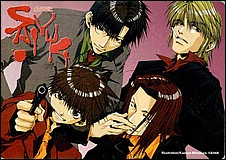 Saiyuki is the story of a monk, a half-demon, and 2 demons who are sent by the 3 aspects(the guiding forces of buddism) to stop the demon king from being ressurected. In light of this party leaving for the West, demons suddenly go insane and start attacking and killing people. Sanzo is a buddist monk who drinks, smokes, and threatens to kill everyone in sight. Sanzo also got his name by being chosen to be the succesor of Sanzo Sama. Gojyo is a half-demon, or a child of taboo. With his red hair, and red eyes, he flocks to women, and is a chain smoker.

Hakki, an once human turned demon by killing 1000 demons after his wife was kidnapped by demons, is the voice of reason, he can control his spirit energy, and travels in his small dragon that turns intoa jeep. Goku, is like the Goku we all know and love from DragonBall. He's always hungry, complains to Sanzo, and has unimaginable powers. As they cross this earth, they run into things they most liely won't suspect, and recap their past. The view soon realizes (by pieceing together small clips hereand there) that this event has happened over a thousand times, and in a thousand different lives.
emma gray
02-18-2007 11:07 [E-Mail,Site]
i love saiyuki, especially sanzo. yum! yum! i want to eat him up or even better how bout i kidnap him, just for me.
Saiyuki Fan
05-30-2005 22:37 [E-Mail,Site]
XDXD!!!!!saiyuki the best!!!i'll giv 100 points!!!!YATTA!!!!KAWAII........
ScythH02
04-13-2005 16:32 [E-Mail,Site]
WOW!!! I don't know about this movie the show was horrible. Way to much still frames and REALLY HORRIBLE cgi. The comedy wasn't that good either. I usually look at anime and judge a show/movie using several different aspects but Saiyuki (the show at least) failed miserably!!
Jessica
03-20-2004 21:00 [E-Mail,Site]
WEll l really think this movie was GREAT!!
I watch it and then my brothers and sisiters wanted to watch it again. I thought their minds were so in to the movie. But I like this movie
jen
01-01-2004 00:13 [E-Mail,Site]
Wow...Saiyuki. I like. It's dangerously addicting. (Not to mention all the guys are yummy.)