Anime Review Rating:
10/10
Picture Examples Of Anime: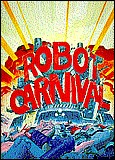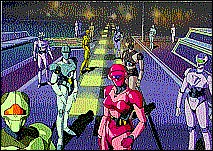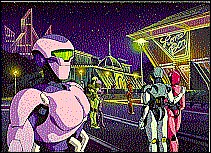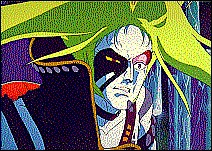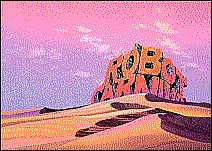 Well to start off with, if you have never seen Robot Carnival, I thoroughly recommend you go out and watch it. It may be rather hard to find, although there has been a dvd re-release, also vhs can be found on ebay. Now Robot Carnival is not just one anime, it is a setup similar to the more recent"Animatrix" in that there are 9 anime shorts. The styles range widely from the quirky "Tale of Two Robots" to the symbolic nature of "Cloud" to the hellish spectacular called "Nightmare".

Robot Carnival has something to satisfy just about any anime fans hunger. The animation is grade A (especially for the time that it was created), I can remember first watching it on Saturday Anime on the Sci-Fi channel in the early ninties. It is still perhaps my personal favorite anime of all time. If you haven't seen it yet, you NEED to. The soundtrack is rather spectacular as well.

Carnival Rides, lol(The Anime Shorts):

Introduction and Finale - The Introduction and Finale instill comedy and awesome power, as well as a number of explosive surprises.

Star Light Angel - Two young ladies take a trip through the amusement park. For one of them, it'll be a very interesting experience.

Cloud - A feast for the eyes as well as a very unusual but touching story.

Deprive - Anyone for high-impact robot action? You won't be disappoined here as a lone robot attempts a daring rescue.

Franken's Gear - The work of a mad scientist to bring his creation to life ultimately becomes an utter disaster.

Presence - One of the more-touching works, and one of only two with voice roles. A man's secret work of love seeks its own presence and desires to return his love...and it scares him.

A Tale of Two Robots - This is the giant robot portion of our program. Hold on tight and get ready for the fight of the 19th century (with plenty of humor thrown in)!

Nightmare - A robotic artist turns the city into its canvas, and a poor commuter is caught in the middle.
Be the first to add comment to this page.