Anime Review Rating:
8/10
Picture Examples Of Anime: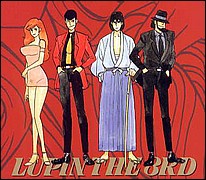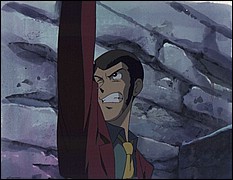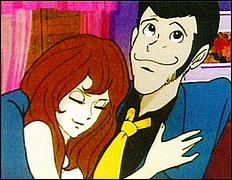 When I first saw this show(lupin the 3rd) I didnt think that it was a anime, but I guess it is. Well anyway this anime is about a man named Lupin. (pronounced "Lu-pon" if u didn't know that) Lupin is a very good theif he could steal almost anything if he set his eyes on it. Lupin has three associates and friends:

1. Jigen, a great and gifted marksman. 2. Goemon, i would say he's a very valued friend and associate, cause he has a samurai sword that can cut through just about anything and he's very skilled with it. 3. Fujiko, She's a very beautiful and cunning woman, and Lupin just can't keep his hands off of her, she doesn't have any major skills, but I guess she uses her more special qualities (take a good guess :D). This anime does have the story packed down, but I only give it a 8 cause of the cheesy drawing. (Look at there legs, lol).
ziza
06-13-2006 10:40 [E-Mail,Site]
I use to love it as a kid but now...it bores me.
UnKnown
01-18-2006 19:30 [E-Mail,Site]
i think its pimp
Naota
07-30-2005 21:03 [E-Mail,Site]
this show is great riight its old stupide and poorly drawn how can u not watch it
Demon
09-23-2004 11:48 [E-Mail,Site]
lupin the 3rd is my favorite anime
it's awesome.
AnimeFan
07-20-2004 20:33 [E-Mail,Site]
I'm so happy that Lupin The 3rd is back on Adult Swim!!!!