Anime Review Rating:
"The first truly adult animation film to reach a level of literary and visual excellence. An important visionary work." So i give this movie a 10 out of 10.
Picture Examples Of Anime: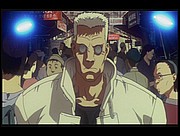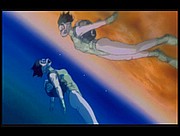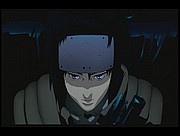 Ghost In The Shell Summary:
The movie opens with Major Kusanagi, a cybernetic special agent for section 9,sitting on a rooftop waiting to shoot a man who has diplomatic immunity from police action. She uses thermoptic camoflage(invisible) to protect her identity and shoots him through a window, preventing an embarassing situation for the govenment. Section 9 is a relativly secret organization, who clean up the mess nobody wants or has the power to deal with.
The story starts out with section 9 already knowing about , Puppet Master. Puppet Master is a internet hacker who can erase your memory and turn you into a mindless zombie who will only listen to his order's. Section 9 later on finds the origin's of Puppet Master, and sends one of there best agent's, Major Kusanagi(The Camoflage girl). upon arrival Major finds out that the the Puppet Master, has control over a tank. A very powerful and extremely useful tank at that.
Major battles with the tank a bit, and finally destroys it with the help of her male also cybernatic special agent partner which brought a super gun with him. Setting off a big explosion, exposing Puppet Master. Major will have to make the ultimate decision when the Puppet Master suggests a merger with her. Kusanagi must decide if she will fulfill the Puppet Master's ultimate objective to become truly human and exist outside of the Electronic Net. I Wonder Does She???
motoko kusanugi
12-26-2007 23:09 [E-Mail,Site]
hey im motoko from ghost in the shell
rosabella
11-18-2007 14:12 [E-Mail,Site]
yeah!! perfect,its realy nice good show!!!!!!!
Arctic
01-24-2005 04:37 [E-Mail,Site]
Great movie, poor review. Such a fantastic story and groundbreaking animation summed up in an empty paragraph? I don't think so. I'll write one to this movie deserves later.
dribbler69
03-14-2004 12:23 [E-Mail,Site]
ghost in a shell is a really intersting anime but it could be better
JAMES
12-29-2003 22:42 [E-Mail,Site]
i like this one alot.i've never seen one like this!