Anime Review Rating:
9/10
Picture Examples Of Anime: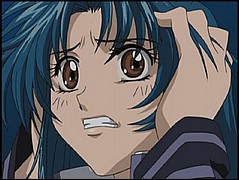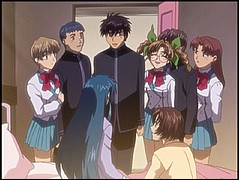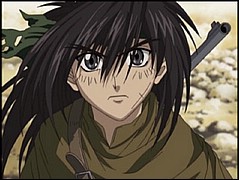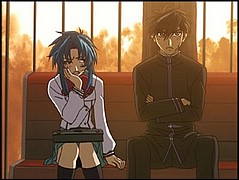 Full Metal Panic Summary:
This anime starts off like no other I have seen. In the begining it starts off with alot of action, a cloaking mech, Solviet terrorists, secret plans. Then before you know it, we turn ourselfs into a group of Elites that are on a mission to track a young high school girl. This anime starts off from the begining with a mix of comedy and action, at just the right balance.

The main male character (Named Sousuke Sagara) playes the role of the one that must follow their teen suspect. It turns out that he has never been in the "real world" and its a rather funny mix on how the girls in school take to him. Not too long after the begining the relation ship unfolds between the two main characters and its off from there. The anime is jam packed with action though it did have a few let downs.

I would recomend this to anyone that is just getting in to anime, or likes anime school girls (I know your out there) The only draw back is the mechs role in the series (They are called AS in the series btw) They arent exactly front and center in the attention compared to other animes such as Gundam Wing.

I still rate this a 9 out of 10 with very fluid animation and a great english dub (Thank god for that)

Also if you are wondering, they are only available in DVD, and come with Japanese with subs support, aswell as English with no subs. Each volume retails around $29.99 (USA) and contains four full length episodes (each one lasting around 25 minutes) Also be sure to check out the rest of the 7 part dvd's when they are released.
Roxie
01-12-2007 01:19 [E-Mail,Site]
I really hate it when its after midnight becuase YouTube closes down and thats the only website I watch Full Metal Panic on! I just love it! I've seen it more than 20 times but I can never get tired of it.
chuckjones
11-03-2006 14:23 [E-Mail,Site]
To all those looking for a great anime to either start off with or an anime with a great plot, story, and fresh characters, this is my favorite action/comedy. The first series is awesome, with it starting to develop the characters first, it focuses on bringing out who the character is. But when the action begins, its incredibly satisfactory. Its well balanced and worth seeing the side-series called Fumoffu as well. Then the Second series called The Second Raid(TSR), is a lot darker, with intriguing conflicts and such. Very awesome and i stand by no less than a 9 rating. thx, hope you love it.
me
10-16-2006 14:06 [E-Mail,Site]
i have never seen this show or movie but all i no is that it souds so great that maybe ill see it one day
enondowen
12-28-2003 17:07 [E-Mail,Site]
Full Metal Panic! is one of my all favorite anime show of all time. Its full of action, excitement and is really funny! ^_^x If you haven't seen it yet, you should be searching for it! My favorite is Sousuke Sagara if you'd like to know! Hehe ^_^x
dav666
08-11-2003 06:54 [E-Mail,Site]
although this is a mech anime it's different in that the action take's a back seat to the story and the character development is the main focus. Though there is very little action it is enough to keep you satisfied plus the comedy is also great also there is a love triangle in the series as well.

i would rate it as a well rounded series which does deserve a 9