Anime Review Rating:
8/10
Picture Examples Of Anime: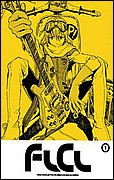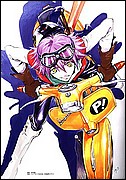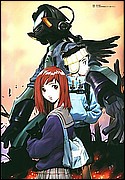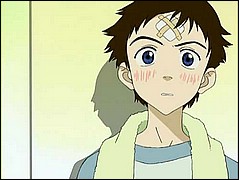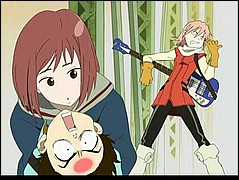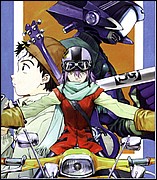 Ok, brief Silence and then a rock n' roll entrance... these are signs that bizzare anime, named "Fooly Cooly" for reasons unknown, is about to be viewed. (Either by video or TV)

Now, I being an anime addict, had to check this out. From the moment I first saw It I was hooked. Ok, so what's the plot you may ask? Well, it's about a 12-year-old boy named, Naota. Yeah? So? Ok one day... he gets hit by a Vespa Scooter. Now, the woman that hit him claims to be an alien(still with me?), an Alien police officer who also claims to be a rock star. Now, after being hit, Naoto starts getting strange bumps on his head. Now be prepared for something really odd. 3,2,1! Those bumps get so large, that robots start popping out!(HUH!?)There is also an alternate plot going on at the same time, Naoto's older brother's girlfriend was starting to take a liking to our main character, and it goes on from there.

Ok, strange... strange... strange...

Now you are probably asking, "Why should I watch this trash?", the answer my friend is about to be spoken.

The animation is wonderful, the characters are well drawn. What else? Good music, great after a long hard day at work or school. Yeah, what else? It's just addicting... Rent it, watch it, buy it, Love it.

That concludes my review of this, somewhat strange, heck VERY STRANGE ANIME! Thank you!
kyler
09-06-2005 20:50 [E-Mail,Site]
i think that FLCL is the most HARDCORE anime show to hit adult swim!!.It really Sucks that there were only 6 episodes,wich was unbelieveble!!!!.I thought the character design was awsome,but the music was 2 times as better.The word is they are coming out with Fooly Cooly2,attack of the pirate king,but I do not know when.If you have that info please email me,jcoleman3@tds.net.And remember fans,Fooly Cooly RULLLLLLLLEZ ALL!!.Whoever says FLCL sucks in my face,I will kick ASS and take name,see ya
takun
08-21-2005 20:23 [E-Mail,Site]
fooly cooly rulz, IT RULZ! i dont care what anyone says but IT RULZ! I like the theme song,ride on shooting star too it's pretty cool. Now, back to the AWESOME! FOOLY COOLY, Takun's dad is stupid but Takun is cool so are Mamimi and Hatuko. Rock on everybody and don't forget FOOLY COOLY RULZ!
Gabby
08-08-2005 20:12 [E-Mail,Site]
I love FLCL the show is so cool! I have the soundtrack 1 and 2 its great music I love it Because most of the songs are song by The Pillows.
The_Haruko
07-19-2005 19:22 [E-Mail,Site]
My favorite anime ever by far. The characters, the mood, the random plot! I love it all. I found a great FLCL site - http://www.flclw.com
musashi
07-16-2005 02:35 [E-Mail,Site]
the best anime ever!!!!!! long live FLCL !!!