Anime Review Rating:
7/10
Picture Examples Of Anime: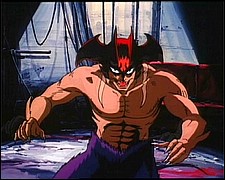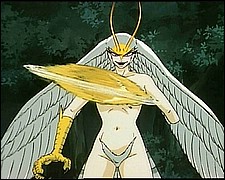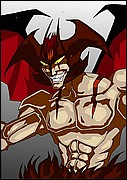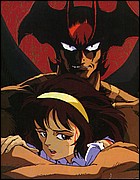 Life is unexpectedly stopped for a young high school boy, named Akira, when his parents go missing. Then, as if that isnt enough, his pet rabbits are found dead, killed by the resident punks, who constantly pick on Akira for his small size and quiet attitude. After school one day, he is walking home with his girlfriend, when his best friend, Ryo Asuka, whom he hasnt seen in years, suddenly appears and demands that Akira follows him. Ryo has discovered something horrible, and wants to speak with Akira about it. As if life isnt bad enough, it now turns out that supernatural monsters, called 'Demons', are leaking out from the underworld. There is only one way to stop them, and that is to become a demon yourself. Can young Akira make that choice, or will he let the world be overrun by demons and destroyed....only watching this film will tell!!

Now, Devil Man is a quite unique anime, different then most others in the occult(supernatural influences) section. Since its a bit old, the animation is outdated, and the acting is only decent. The music is ok, but isnt played enough to really get into. This anime comes in two volumes as far as I know, one where the hero makes his choice, and the second volume is one of the many cases where he uses the choice he made to destroy demons. Im assuming that there must be more made somewhere, but I have yet to find it. I hope to though, because this is a very good anime, worth watching, Just, not for the kids. Enjoy.
Fyrborn
02-02-2005 19:54 [E-Mail,Site]
Iv'e seen this anime and think it is one of the best I own, I like charecters that get evil powers but, are still good, and in this anime there not of course afraid to show things like gory killings and naked flying winged harppy things.
being the owner of its original on vhs and the full collection of it on dvd..
part one and part two of Devilman is awsome..get it today...where you can that is. INC JN
Mordrag
05-22-2004 22:42 [E-Mail,Site]
I watched this a long time ago. I must say it was my 3rd of 4th anime I ever saw. It's really a cool anime it's about a guy becomming a demon and goes around killing demons.
PbxWebmasta
09-06-2003 17:34 [E-Mail,Site]
Another rare anime reviewed by jerem, if u have seen this anime please leave a comment on it.