Anime Review Rating:
10/10
Picture Examples Of Anime: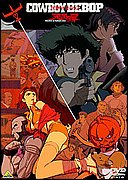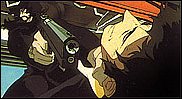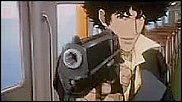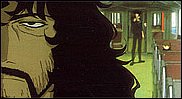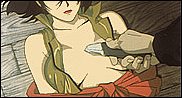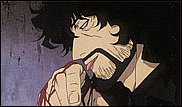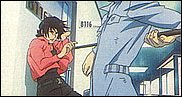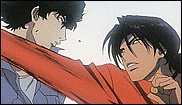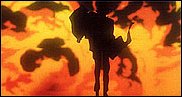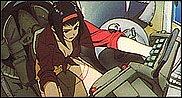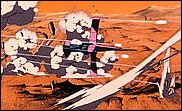 Cowboy Bebop - Knockin on Heavens Door Summary:
Mars, days before All Hallows Eve, a tanker truck explodes, releasing a deadly virus that kills hundreds of innocents. Mars officials, afraid of another more serious attack, set a bounty higher then almost any other for the capture of the culprit. On the Bebop, Spike, Jett, Faye and Edward, all bored and hungry, decide to take on this case. Unbeknownst to them, however, this is much more then a usual terrorist attack. This could very well be the most dangerous job any of them has ever faced. The virus something not many have seen before, the culprit a madman, this is going to be one hell of a ride.

This ... is ... BEAUTIFUL. Easily one of the best anime of all time. Action, dubbed voices, music, character development, all perfect. The portrayel of Spikes combination of Jeet Kun Do and what seems to be Kung Fu made me drool. It is very well done, all around. The villain, Vincent, is much more dangerous and deadly then ANY of Spikes' adversaries before and after. And Electra, the new femme fatale, is a wonderful addition to the cast. Unfortunately, there is not much more I can say without spoiling the story, but check it out, it is DEFINATELY worth your time.
kanchigodoffire
10-21-2005 13:18 [E-Mail,Site]
i luv this movie
i have it at home and a lot of the series
its awesomely funny
and full of action
Kari
10-15-2004 20:36 [E-Mail,Site]
KNOCKING ON HEAVEN'S DOOR WAS ONE OF THE BEST MOVIES I'VE EVER SEEN. unfortunetely i dont own it *cries*! it kicks total butt(dont no if i can swear) it's open the door to new animes!! i used to be just hooked on inuyasha... ED'S MY HERO!!!

lesson,lesson...see a stranger follow him!!-edward
cbboy
06-16-2004 17:45 [E-Mail,Site]
whats different about the jap. version of it, ive got the whole cbb boxset in japanese and i dont see much difference in the episodes, great movie btw 10/10
lol_80
05-12-2004 15:13 [E-Mail,Site]
this movie is great u should see the japan versen of it.
CJ
02-15-2004 16:18 [E-Mail,Site]
This is a great Anime. I've only seen the first 5 eps of the series, but I've gathered that they are pretty good too. The artwork in this anime is incredible, the music is fantastic, the plot is great, nothing is left to be desired. My favourite character by far is Vincent, the confused soldier who wants to find a door to heavens gate.