Anime Review Rating:
While not highly stylized, it does make for an entertaining series *9 out of 10*
Picture Examples Of Anime: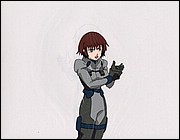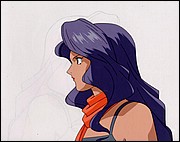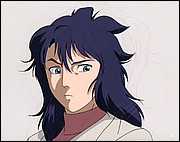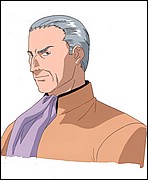 Yoshiyuki Tomino, the original creator of Mobile Suit Gundam, took a little break from animation after completing V Gundam. After witnessing Evangelion, he claimed he could do way better and hopped back into the anime genre. While Brain Powered doesn't quite live up to what Tomino said it would, it is a pretty good series.

The story takes place sometime in the near future. A new threat has emerged from the depths of the ocean. A huge spaceship called Orphen. The UN takes action and develops Novis Noah to counter Orphen. The two ships wage battle with mechs
called Anti-Bodies, living organisms that can feel and fight. It starts out with Hime Utsumeia, a young orphen who happens to witness the revival of a Brain Powered. However, it isn't long before two Grand Chers from Orphen show up. One
of them is piloted by Yuu Isami, the son of the main scientists on Orphen. After seeing Hime, Yuu now believes there is something on Earth worth saving. Skip ahead a year later when Yuu escapes Orphen in a Brain Powered. From there, the
story takes many twists and turns.

While the animation and CGI seem limited, the music is the best. Yoko Kanno really outdid herself on this project and I really feel the music boosts the mood of Brain Powered, depite it's small budget. The action is pretty limited to missiles and energy weapons called Brain Bars that fire Chakra waves (some type of yoga energy). Overall, Brain Powered will impress mecha fans. Especially olders ones that have seen Five Star Stories and such.
dj hall
07-06-2004 00:05 [E-Mail,Site]
I love this show. Hime's kawaii
Christopher
06-16-2004 13:15 [E-Mail,Site]
I really liked the series 'Brain Powered', it really touched me. Its one of my favorite Tokyopop books out of two
Junpie
07-22-2003 01:21 [E-Mail,Site]
Brain Powered is awesome, hey you should add more screenshots of brain powered.