Anime Review Rating:
8/10
Picture Examples Of Anime: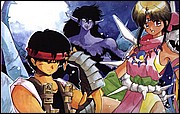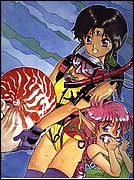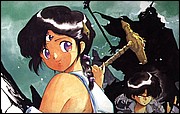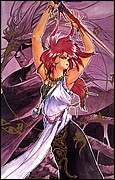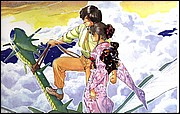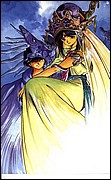 Many years ago, there was an immortal race known as the Sanjiyan. The Sanjiyan were a three eyed race of humanoids. Deep into their existance, a great war supposedly destroyed all of the Sanjiyan. However, jet to the future and you will meet a young man, named Yakumo Fuuji. He is just a normal high school studnet trying to get by, when a young girl named Pai just drops into his life. She is the last remaining Sanjiyan, and she has been searching for Yakumo for years at the will of his father, who was long thought dead. She wants him to help her find the relic that can make her human, and is adamant about recieving his help. When he refuses, he is suddenly attacked by a giant demon bird. When the bird kills him, the Sanjiyan in Pai awakens, and makes him her familiar, henceforth making him immortal, just like her. As they search for the relic, many demons and humans a like will get in there way. What will cross their path......?

This anime is from the man known as Yuzo Takada. He is the genius who brought us Blue Seed. This anime has a very Eastern feel to it. This anime is so Eastern feeling, it practically takes the viewer to where the characters are. The character designs are not all that great, but the dubbing is okay. The anime has a decent score of music, which also makes the viewer feel right at home..in Japan. Yakumo has a really creepy job, which involves cross dressing, and his eyes are permanently closed for some reason. (unless hes really pissed off, or just plain hurt.) Pai is too cheery for what she really is, and all of the other characters are just as uncelievable. Overall, the work of a genius, but could have been just a little better.
epoch
07-13-2006 11:42 [E-Mail,Site]
this is one of the best animes ever (in my humble opinion anyway). dark and somewhat hardcore.
Krazy_Bone
08-18-2004 07:25 [E-Mail,Site]
Its mint, really really good, but there is only 7 episodes at the moment which only covers about 5 volumes of the 40 volumes of the manga, and it leaves it when everything seems to fall in place.
They made 4 episodes and left it for 4 years then they made 3 more, and now its been over 8 years. The Manga is A Class or Even S Class
This it self is top, but there are some flaws that are not covered in the few episodes. Amazing to watch, disappointing that it leaves it....

You won't find nothing like this.

Barry
03-14-2004 16:56 [E-Mail,Site]
3x3eyes is a good anime, thats just all there is to it and so is blue seed.
PbxWebmasta
09-06-2003 17:26 [E-Mail,Site]
Jerem said this is from the same guy that made blue seed, and i caught some of blue seed on this channel late at night, i\'m sure this anime is as amazing as blue seed is, and if anyone has seen 3x3 eyes leave a comment.